As eTown continues to grow, current residents and guests can look forward to new businesses joining The Exchange, eTown's shopping & services hub. Three highly-anticipated additions that are coming-soon include: Baptist Health, GATE Petroleum Company, and Providence Homes' Corporate Office and Design Center.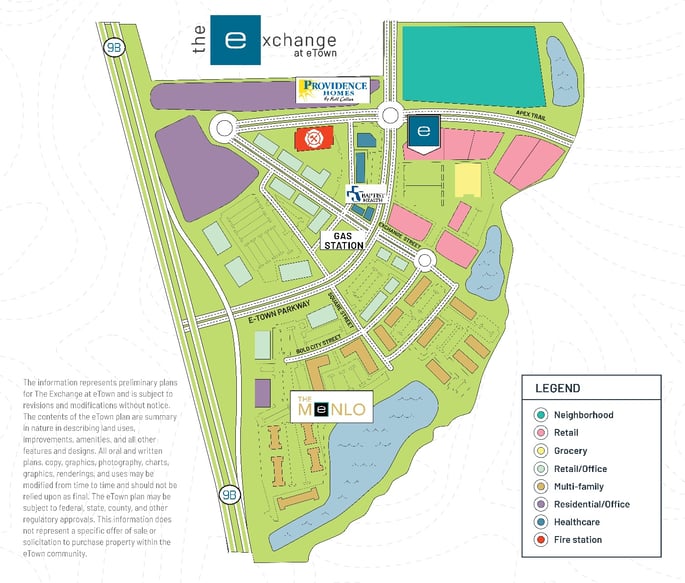 Baptist Health is arriving in eTown with the intention of providing residents with top-notch health care that will evolve to fit their needs. Not only will Baptist Health specialize in primary care, but the plan will also include onsite as well as digital health and wellness services to accommodate all needs in the community. Baptist Health will encapsulate the 'convenience' pillar of eTown by catering to residents right at home.
GATE Petroleum Company is opening a fueling station and store in eTown. The eTown GATE will have 20 fueling stations and 4 ethanol-free fueling stations. The store will be completed no later than July 2022, featuring Fresh Kitchen and YOBE® frozen yogurt along with new items like 4 Rivers pulled pork BBQ sandwiches and garlic knots.
Providence Homes Corporate Office & Design Center
Providence Homes recently announced plans to open a corporate office and design center in the Exchange at eTown. Scheduled to open in Fall 2021, the addition will provide the Providence corporate team with 6,000 square feet of new office space as well as an additional 2,500 square feet in their design center.
The expansion will provide home-buyers an improved customer service experience as well as an opportunity to view even more design options for their new home. Centered around energy efficiency, the building's design will include many details to reduce its environmental footprint.
---
For more information about the eTown community, explore etownjax.com, stop by The Hub & Welcome Center or email thehub@etownjax.com.