Article adapted from original post on www.etownjax.com.
The PARC Group unveiled plans today for eTown, the highly anticipated smart-living community featuring new single-family homes, apartments, retail and world-class amenities. The Welcome Center and initial neighborhoods are scheduled to open this summer.
After nearly a decade of planning, The PARC Group has unveiled the vision and plans for the highly-anticipated community of eTown. The long-awaited announcement comes after a year of hype and "good-'e' box" teaser promotions that have generated buzz across the First Coast.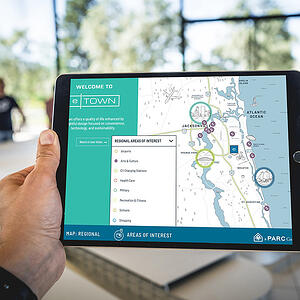 Centrally located off State Road 9B and Interstate 295, and just 3 miles from St. Johns Town Center, eTown is built upon four core principles: community, technology, convenience, and sustainability.
In addition to providing some of the only new-construction homes in the area, eTown will also feature smart-home technology, zero energy ready homes, eco-friendly features, community-oriented amenities, pedestrian and electric car-friendly trails, and convenient access to neighborhood services.
In addition, parks, ponds and paths will span the entire community, with 50 percent of eTown's acreage remaining undeveloped to preserve much of the area's signature longleaf pine habitat. The vision for the community is to strike a balance between convenient development and natural outdoor spaces.
"eTown is a one-of-a-kind community and a complete rethink of Jacksonville living," said Roger O'Steen, Chairman and Founder of The PARC Group, the master developers of eTown and award-winning Nocatee. "From state-of-the-art homes, canopied walking trails, resort-style amenities, and cafes and shops just a golf cart ride away, eTown offers a fresh approach to the modern lifestyle."
eTown will feature several unique neighborhoods all centered on modern living, sustainability and smart technology. Plus, true to the forward-thinking vision and spirit of eTown, all of the community's neighborhoods will be named after renowned inventors and innovators. For more information on the neighborhoods located within the eTown Community, click here.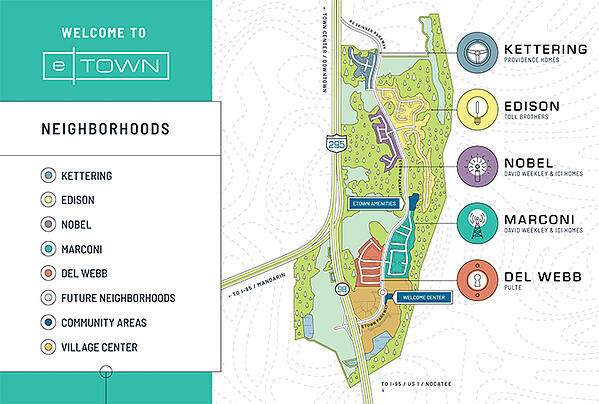 eTown will be the first of its kind in Northeast Florida — a relaxed suburban setting with a dynamic urban vibe.
---
For more information about eTown, visit etownjax.com or email thehub@etownjax.com. To view an interactive map of the eTown community, visit www.discoveretown.com.